RANGE SURF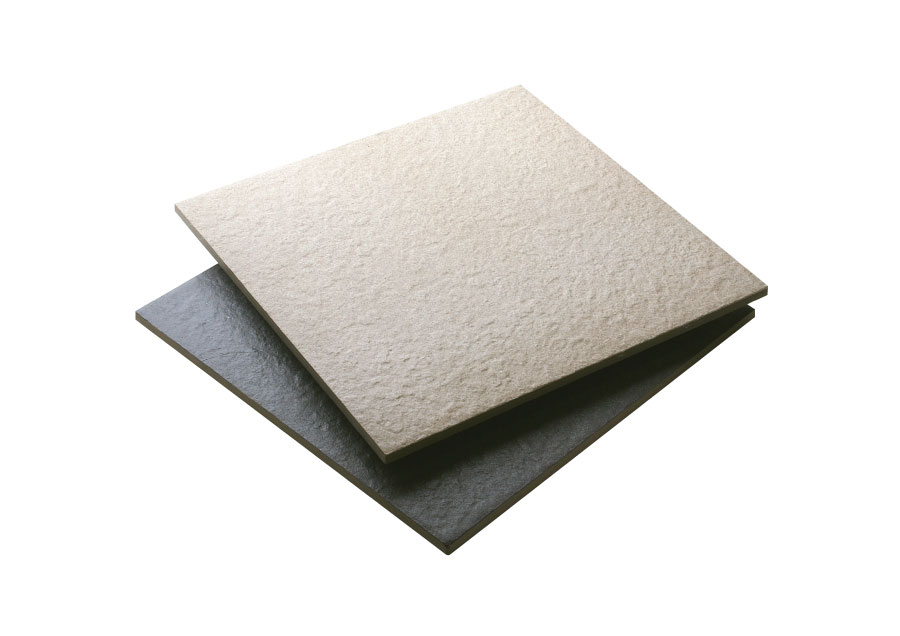 Glazed Porcelain Tile
---
Characteristics of high-performance multi-function tile
1. Anti-slip effect
Slip-resistant special glaze achieved a high CSR and CSR-B score.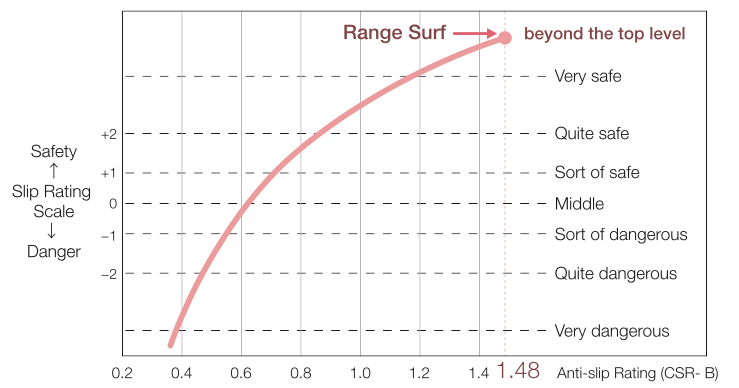 Result
Item
RANGE SURF
Test Requirement
Test slip resistance
Test Method
Slip testing machine by OY-PSM
(Inclusion : water + powder for test 1-4 )
Slip resistance Result
C.S.R-B 1.48
C.S.R. Rate
C.S.R 0.61
2. Antifouling effect
The mineral glass closes the fine pores of the tile surface to prevent dirt entering.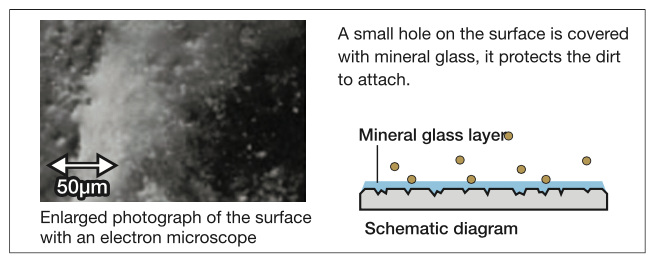 Range Surf

Regular tile
3. Anti-scratch effect
The mineral glass on the surface has Mohs Hardness 8(same as Topaz, while Diamond has 10) will have very little scratches.
4. High wear resistance
The glaze satisfies CLASS IV(for heavy traffic) in European Standard, and best suitable for public space floors.
| Test items | Standard | Result |
| --- | --- | --- |
| Chemical Resistance | EN122 | class AA |
| Abrasion strength (Morse strength) | EN101 | 8 |
| Water absorption | JIS A 5209 | 0.02% |
| Wear resistance | EN154 | class Ⅳ |
| Abrasion loss | JIS A 5209 | 0.03g |
| Bending fracture load | JIS A 5209 | 306N / cm×8 |
LINEUP
RGS-150 / R-401

RGS-150 / R-402

RGS-150 / R-403

RGS-150 / R-404

RGS-150 / R-405

RGS-150 / R-406

RGS-150 / R-407

RGS-150 / R-408
PRODUCT INFORMATION
RGS-150 / R-401~408

144x144mm (5.67″x5.67″)

Thickness : 9mm (0.35″)
Construction Example