Advantage1: Embody images
You have vague images in your mind…
Usage of your favorite flower as a material.
Or usage of your dog in a design.
A modern Japanese atmosphere or a taste of natural style and so on.
We want to embody your various ideas unable to describe.
"Embody images and lead the completion drawing"
This is exactly what X'S are good at field.
---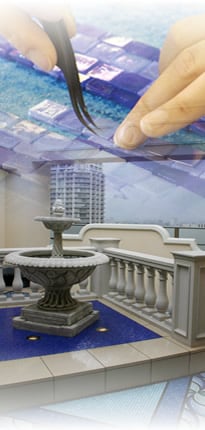 We "X'S" propose an image of completed dwawing board designed and created by using CAD. We discuss with clients directly and create in our own design section,not outsourcing.
We propose the best suitable plan after considering materials,way of creating, budget, location, terms and conditions. Also we provide you samples of the tile which are considered to be used, you can imagine the atmosphere clearly after constructions with touching the real thing.
After the decision of designing,we plan the layout of the tile,then take over to our factory.
Especialy about the picture tiles,we do from designing silk screens and handwriting to firing.
So,we improve the reproducibility and shorten the terms to supply remarkably.
These " CRAFT & ART" pefect back up system are the greatest strength of ours.
The process of making mozaic art.
(Enlarge to click.)
---

---

Advantage2: World Wide Market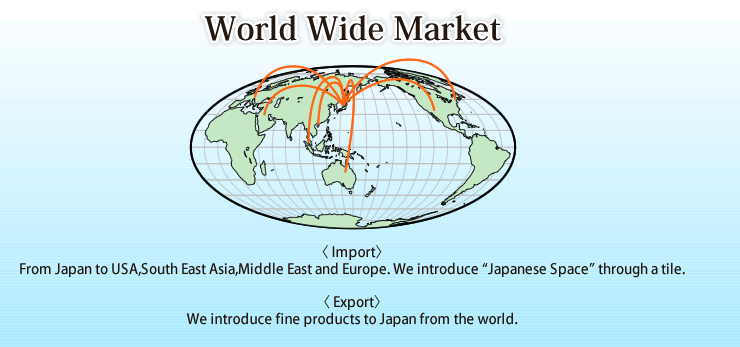 "Spread fine products of Japan to the world""Bring fine products of the world to Japan"
This is the motto of "X'S" since we have established for 15 years.
We have found a shop used for testing sales of new products called "WAKEI & Co." based on our motto in Los Angeles,USA from March 2007. Since then we began to construct the network with US,Europe and South East Asian countries. And we have aimed to create a well balancedbusiness model of export and import.
We utilize our networking that we gained with giving satisfactory results and we provide you the effective plan that contains "Made in Japan" mainly or high quality imported products within your budget. Would you like to arrange your space with beautiful tiles which are particular about expression and material in limited budget ? Leave that up to us "X'S".
Advantage3: Research and Development
Research and development of recycled tile
The recycled tile development team "ecoRevo®" aims to contribute to the SDGs and solve garbage and environmental problems by developing recycled tiles made from various waste materials and spreading sustainable building materials throughout the world. is our big project.
Recycled Tile Project : ecoRevo®
We raise the recycle ratio of the materials up to 80% compared with usual recycled tiles. Moreover,we succeed to make ecological tiles with up to 33% reduced CO2 emissions by using low temperature firing. We will keep facing to research and develop new tiles with recycled materials.
* Recycled tiles made from materials such as molten slag, waste glass, and dust from biomass power generation.
Catalogs | ecoRevo®
ecoRevo® - Recycled Tiles
(4 pages)

Realize a recycling-oriented society through recycled tiles.
---